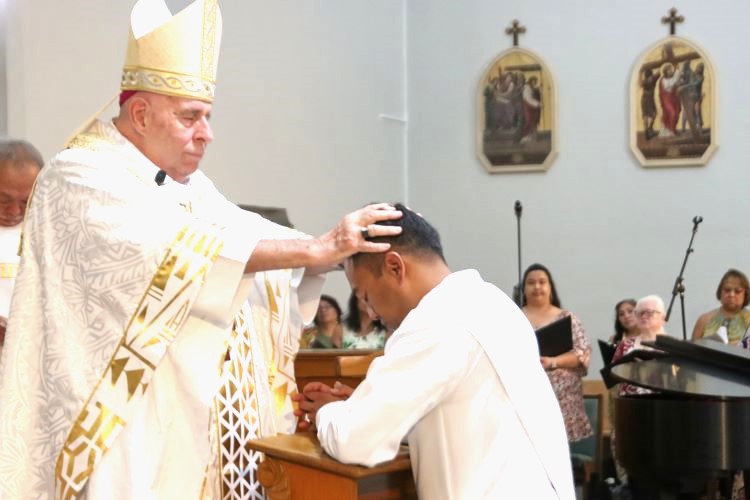 On January 24, 2023, Deacon Michael Kamauoha, ss.cc. was ordained to the priesthood at Saint Patrick Church in Honolulu, Hawaii. SS.CC. brothers and sisters, family, friends from across the globe and parishioners from Oahu and Molokai parishes gathered for the celebration.
Most Reverend Larry Silva, Bishop of Honolulu was the principal celebrant of the mass and ordaining prelate. The principal concelebrants were the Most Reverend Lane Akiona, ss.cc, Provincial of the Congregation of the Sacred Hearts United States Province, and Very Reverend Monsignor Gary L. Secor, Vicar General of the Diocese of Honolulu. SS.CC brother priests and many diocesan and religious priests working in the diocese concelebrated.
Bishop Silva began his homily referencing the processional song, "All are Welcome", telling Maiki that in his priestly ministry he should be open to all people. Then Bishop focused on the gospel reading, in which Jesus asks Peter three times, "Do you love me?" Peter's first responses were not totall commitments, it was something like "Yes, Lord, I like you." Throughout his life as a priest, Jesus will ask, "Maiki do you love me?" In the good times it will be easy to answer. When things get difficult, when that midnight call to the hospital comes after a long hard day of work, the positive reponse will be more challenging.
He reminded Maiki that the Lord loves him and will be with him. When he finds himself in difficult counseling or confessional situation, and the words he speaks surprise him, it is the Lord working through him. He told Maiki that he will meet all kinds of people in his ministry, those who agree with him and appreciate him, as well as those who disagree, or are in conflict with him, perhaps even reporting him to the Bishop. It will be the choices he makes in each situation that make a difference.
After the mass, all were invited to concinue celebrating with a delicious meal served in the St. Patrick School Cafeteria.
See his photo album here:
Ordination photos of Fr Maiki Kamauoha sscc