Fr. Alberto Toutin, our Superior General, accompanied us in South Texas Sept. 19-26 in this first leg of his fraternal visit of the U.S Province of the Sacred Hearts of Jesus and Mary. Fr. Alberto did give a great deal of fraternal love not only to us SS.CC. brothers, but to many people who journey and minister with us, and to others he also encountered.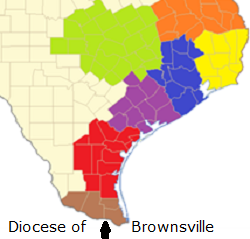 After flying into Harlingen, Fr. Alberto, stayed over in Edinburg at Sacred Heart Church. Tuesday, our bookkeeper Lupita de la Cruz celebrated the 57th anniversary of her employment with this diocese and this parish. Our fiesta was very warm and familial – so congruent with our SS.CC. charism. We shared tasty food,
chistes
(jokes) and
cuentos
(stories) in both
español
and English.
| | |
| --- | --- |
| | |
| Frs. Bob Charlton, Manoj Nayak, Alberto Toutin, Bill Gural and Sacred Hearts staff | Lupita de la Cruz cuts her anniversary cake. |
Fr. Alberto had requested the opportunity to see the ministries with outreach to the poor and immigrants. He wanted to meet the servants and those they serve. Wednesday, we went to the Respite Center in McAllen, Texas. It was founded by Sr. Norma Pimental. Jesenia, a native of Mexico, gave us a tour, and explained they are receiving more immigrants from other parts of the world. They have a translation service for Haitian immigrants whose numbers have increased dramatically. Usually, the stays for woman and children are 2-3 days as they strongly desire to be re-united with family in other parts of the country.
Next we traveled to ARISE Muniz within a colonia in rural Edinburg to meet the staff there. Andrea and Delia explained, in Spanish, that Sister Gerrie Naughton founded ARISE in 1987, stemming from her ministry with the poor. ARISE provides many community resources such as education for citizenship, English as a second language, crafts and cooking classes, medical clinics, the opportunity to own a modest home, and emotional and spiritual support. The staff got teary when Fr. Alberto said that he meets with the pope from time to time and promised to tell the pope about them.
Somos catolicos
(we are Catholics), said one of the staff, explaining their mission.
Wednesday afternoon, Fr. Alberto, Fr. Ajit, and I went to visit three sisters of Lumen Christi, which was founded in Guatemala in the 1980's. We were invited by Bishop Daniel E. Flores, Bishop of the Diocese of Brownsville, TX. Sister Maria Jesus of Guatemala, and Srs. Doris and Maribel de La Paz welcomed us into their home and shared with us that they have been studying on-line to become social workers. They have spent the last year practicing the synodal, listening to and getting to know the the immigrants in the nearby colonia in Donna, one of the poorer areas of the diocese. They told us of the suffering that the Church is experiencing under the persecution of Daniel Ortega and his government. We were touched by the kindness and warmth, inspired by their zeal, and their balancing of apostolic activity and piety. The sisters invited us to the Amistad Plaza groundbreaking and blessing on Oct. 8th.
It was a blessing to have Fr. Alberto's fraternal visit to South Texas. We appreciated his message about the importance of living our Sacred Hearts charism, and of serving the people here as brothers. We look forward to Fr. Alberto's canonical visit next summer. We hope he enjoyed the hospitality, faith, and warmth of the people here. God bless you, Fr. Alberto. See you next summer.
Esperamos que hayas disfrutado de la hospitalidad, la fe y la calidez de la gente aquí. Que Dios te bendiga, p. Alberto. Nos veamos el próximo verano.
Fr. Bill Gural, ss.cc.