News & Events
Fr. Christopher Patrick Keahi, ss.cc. (1937-2021)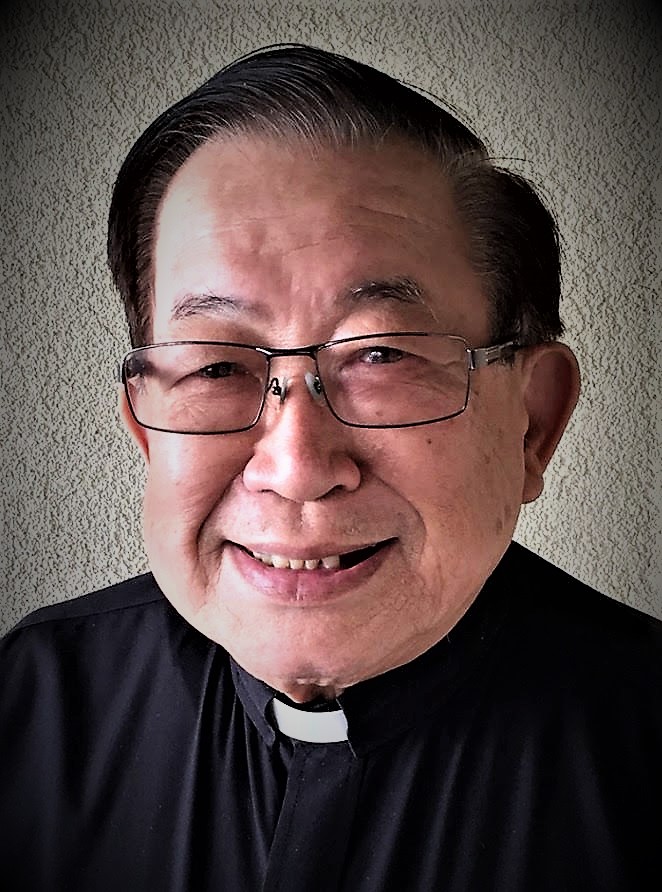 "During this time of pandemic, I ask you to place your trust in God. God will help you, I know that. Have at least faith that all things will go better, and they will. Every day is a new day. Look forward to a better tomorrow." Fr. Chris said at the end of an interview with the Hawaii Catholic Herald last year. Over his 84 years, Fr. Christopher Patrick Keahi grew that faith and trust that came to exemplify his life as a member of the Congregation of the Sacred Hearts of Jesus and Mary. At 6:30 AM, on October 17, this faithful servant went, suddenly and unexpectedly to his eternal reward at Straub Medical Center in Honolulu.
Fr. Chris was born in Honolulu, Hawaii on March 29, 1937 to Francis Keahi and Marianne (Ching) Keahi. He is survived by his brother Lionel Keahi. His sister Demetra "Mickey" Keahi preceded him in death. In August 1957, he entered the Sacred Hearts Novitiate in Fairhaven, Massachusetts, and made first profession on March 14, 1959. He entered the Queen of Peace Mission Seminary in Jaffrey, New Hampshire and received his B. S in Philosophy in 1965. He was ordained to the priesthood at Our Lady of Peace Cathedral, Honolulu, Hawaii on June 12, 1965.
In September 1965 Fr. Chris received his Private School Teacher's License in the State of Hawaii and was assigned to teach at Sacred Hearts Seminary in Hauula. He taught salvation history and typing there until 1967. He was then appointed Provincial Secretary and Vocation Director at the Provincial House in Honolulu. Over the years he served the SS.CC. Hawaii Community in a variety of positions. He was Director of Sacred Hearts Center in Kaneohe from 1979-1980, Superior of Saint Patrick's Monastery from 1995-1999. In 2005 he was elected Provincial Superior of the Hawaii Province and served two 3-year terms. In September 2021 he once again accepted the position as Superior of Saint Patrick's Monastery.
Fr. Chris was a generous and compassionate priest. His first parochial assignment as a priest was Associate pastor of Holy Trinity Parish, Honolulu from 1967-1971. For fifty years, his pastoral service touched the hearts of the Catholic faithful on the islands of Oahu, Maui and Kauai. His assignments include: Pastor, St. Joseph Church, Makawao Maui (1971-1979); Administrator, St. Joseph Church Waipahu, Oahu (1980-1982); Pastor, Blessed Sacrament Church, Honolulu, Oahu (1982-1985); Pastor, Maria Lanakila Church, Lahaina, Maui (1985-1991); Pastor, St. Augustine Church (1991-1995); Administrator, Holy Cross Church, Kalaheo, Kauai (1999-2003) and Pastor, St. Michael Church, Waialua, Oahu (2003-2005 and 2011-2014).
In 2014, Fr. Chris "retired" to St. Patrick Monastery in Honolulu. It was a very active retirement. As he told the Hawaii Catholic Herald, "God has given me the energy by which I can continue to do his work on earth," he said. "He has allowed me the privilege of continuing my ministry for his sake." Fr. Chris served the military as contract priest at Joint Base Pearl Harbor Hickam and Marine Corp Base Headquarters in Kaneohe. He celebrated the traditional mass for the Latin Mass community. He was chaplain to our Sacred Heart Sisters and celebrated masses for the Sacred Hearts Academy. He made himself available to help where needed to anoint the sick, care for the homeless, celebrate funerals, etc. In recent months he was also helping at Mary Star of the Sea, Honolulu. As he told the Herald, "I am so happy, so glad that when anyone calls upon me for help, I never refuse."
Fr. Chris will be greatly missed. Eternal rest grant unto him O Lord, and let perpetual light shine upon him.
SERVICES WILL BE HELD AT ST. ANN CHURCH, 46-129 HAIKU ROAD, KANEOHE, HI
WEDNESDAY, DECEMBER 15, 2021: VISITATION FROM 3:00PM - 8:00PM - PRAYER SERVICE AT 6:30PM.
THURSDAY, DECEMBER 16, 2021: VISITATION AT 9:00AM - FUNERAL MASS AT 10:30AM.
BURIAL WILL BE AT 12:00PM IN VALLEY OF THE TEMPLES MEMORIAL PARK, KANEOHE, HI.


There is a wonderful tribute to him in the Hawaii Catholic Herald:
https://www.hawaiicatholicherald.com/2021/10/27/father-christopher-patrick-keahi-1937-2021/
Back