News & Events
Five men make their first profession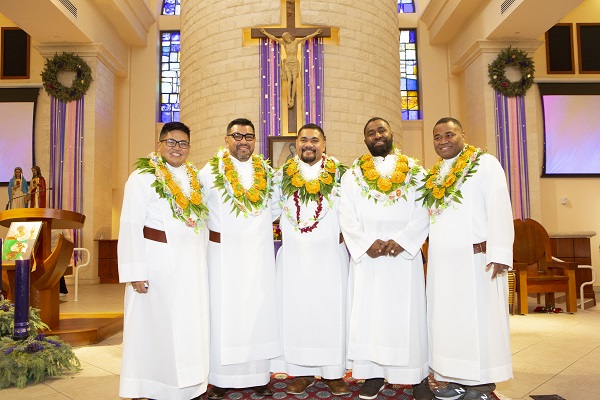 l. to r.: Br. Marc, Br. Juan Carlos, Br. Sepulona, Br. Gaberieli, Br. Tavite

December 12, 2021 - As we celebrated Gaudete Sunday and the Solemnity of Our Lady of Guadalupe, five novice brothers of the USA Province professed their Temporary Vows of Chastity, Poverty, and Obedience. This was witnessed by the congregation of Holy Name of Mary Parish, San Dimas, California. Fr. Lane Akiona, ss.cc., Provincial Superior, presided over the concelebrated liturgical celebration, along with other ordained brothers of the Sacred Hearts community.
Heralding from the US and the South Pacific, Br. Juan Carlos Martinez (USA), Br. Sepulona Lutelu (Samoa), Br. Tavite Uluilakeba (Fiji), Br. Gaberieli Saunivalu (Fiji), and Br. Mark Sherwin Roque (USA) spent a transformative spiritual year in the Novitiate Program in Hemet, CA, under the guidance of their Novice Master, Fr. Rich Danyluk, ss.cc., and associate formators, Fr Jerry Holand, ss.cc. and Fr. Patrick Crowley, ss.cc. Echoing the words of Fr. Rich, he had seen the brothers "grow in the love of God – to come to know him, to love him, and to serve him." Truly, this day was a day of joy and thanksgiving, when these young men said "Yes" to the call to religious life and to join the whole Congregation in carrying out its mission to live, contemplate, and proclaim the love of God.
To the Sacred Hearts of Jesus and Mary… Honor and Glory!
"Know that you have helped form us, you have helped mold us and breathed life into us beyond our comprehension, so please receive from us our joy and our love." - Br. Juan Carlos Martinez, ss.cc.
Back